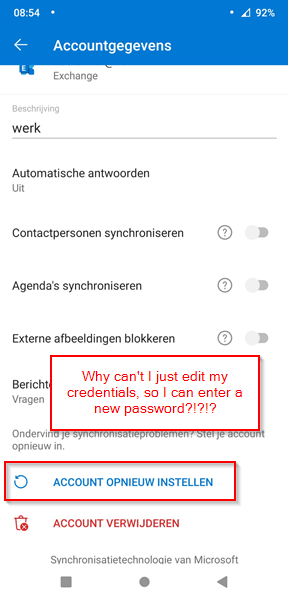 At work, we are required to change our passwords every 8 months. It's company policy, you there's no way around it. Every time this happens, I have problems with Outlook after that password change. When my Outlook desktop application in Windows starts, an old school grey popup appears that is asking for my password. The "Remember credentials" checkbox never seems to work.
Anyways, after this password change, the popup almost immediately pops up again. And again. And again. And again. Until up to the point when I desperately call by IT colleagues.
Today I found out that my account is simply blocked. After a attempts, logging in with the wrong password, the account is automatically disabled.
The thing is, I also use the Android Outlook app, to be able to read e-mails on my phone. After I change my windows credentials, I know I should also change this in the app. Except, I couldn't find a place where to do this. The only option in my Exchange settings is to "reconfigure" the account, whatever that means.
So, my Android app probably keeps hammering the exchange server with wrong credentials, hence my account is locked.
Today I managed to get into the credentials settings in the app; I don't know how though. I pressed the "reconfigure account" button, but nothing seemed to happen in the first place. Then after a while, it suddenly said, ok, you should enter your password. Which didn't work in the first place of course, because my account was locked (again!).
So, I still don't know what the right procedure is exactly, but I can save myself a lot of time googling for a solution. Because when your account is simply locked, I guess no solution on Google will work anyways.